So I was sitting at my desk preparing some documents to give to my boss for review and my phone would not stop vibrating. I have it set for just emails and phone calls- the rest of my notifications are off so I'm not distracted. I look down at my phone and noticed a considerable amount of texts from my amigas but I found it odd because it was the middle of the day (12:46pm to be exact). As I slid the grid of my iphone, I noticed a tweet from Tracee Ellis Ross. Now, I absolutely LOVE and admire this woman. I mean I have spent hours of my weekends on the sofa with popcorn watching Girlfriends and taking mental notes of her dope outfits and hairstyles. Ok ok, back to the point – I am a TOTAL novice to Twitter and I don't understand it at all. So, I check my twitter notifications to see what was written and this comes up.
I really thought it was a joke until I checked my e-mail and saw this…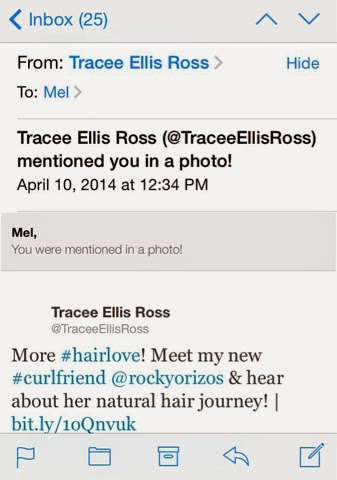 I finally got around to my texts (at this point I was shaking) to read all of the amazing and heartfelt texts my friends wrote – LOVE you guys! Now with all that being said, I just have to say THANK YOU to Tracee Ellis Ross. I know everyone has a story but thank you for reading and sharing mine.
XO,
Mel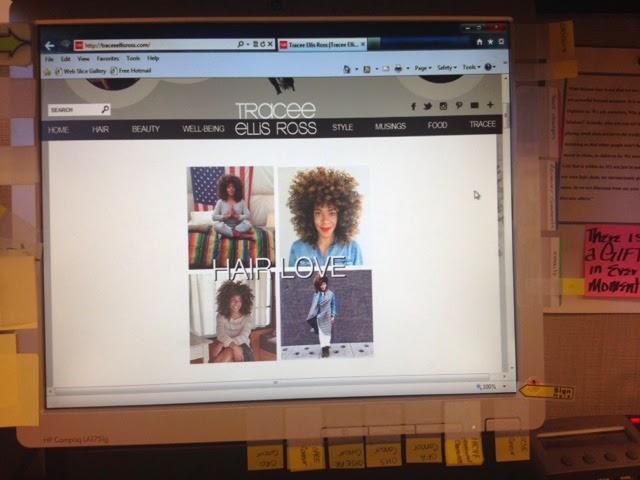 Read the awesome post written by my curlfriend on http://traceeellisross.com/
*A SUPER BIG GRACIAS to my curlsisters Ana and Denise from Curly Essence for writing such a great article. I am so humbled!